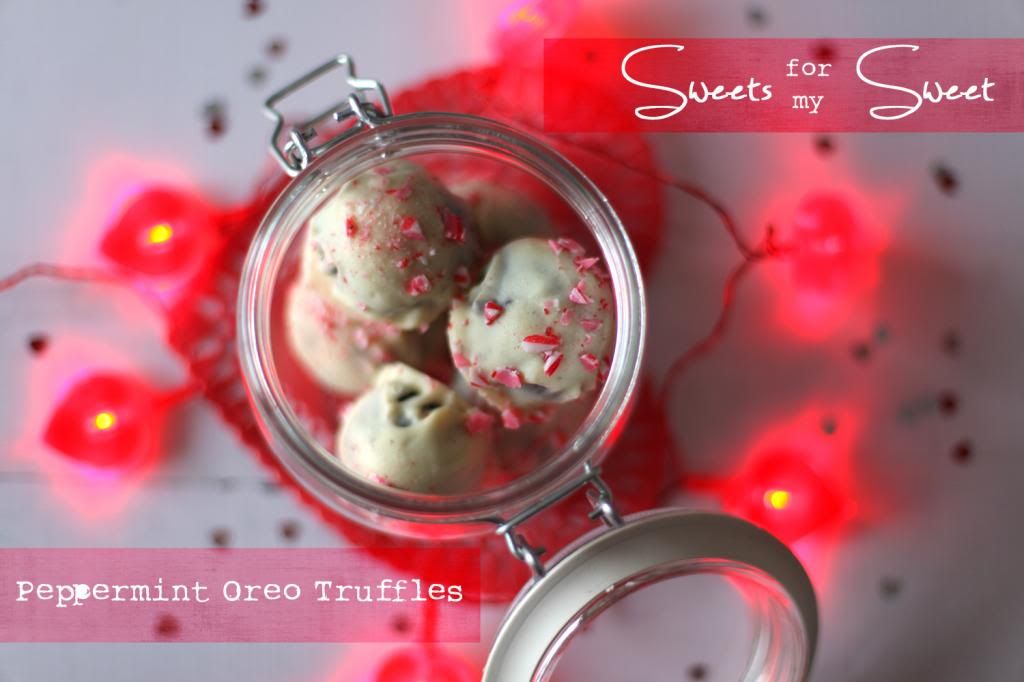 As it's coming up towards Valentines Day, I thought I'd share a couple of Valentines Day inspired recipes with you! If I'm honest, Adam and I have never really celebrated Valentines Day as a couple. Neither of us were really very interested in it. For some reason though, this year I'm looking forward to it. I think it's all the hearts and reds and pinks! I've actually planned a couple of things this year to celebrate. Nothing over the top, just a special meal at home and a couple of homemade bits and bobs but shh, don't tell him! ;)
If you're looking for something simple but still special, why not make the person you love these peppermint oreo truffles? They're ridiculously simple and if you take out time needed for cooling and chilling, then they're really quick to make. No baking, and only three ingredients! This recipe makes just enough oreo pops for a special treat which is good because they're so more-ish you'd have to have some serious willpower not to eat the lot all at once!
Peppermint Oreo Truffles
Ingredients: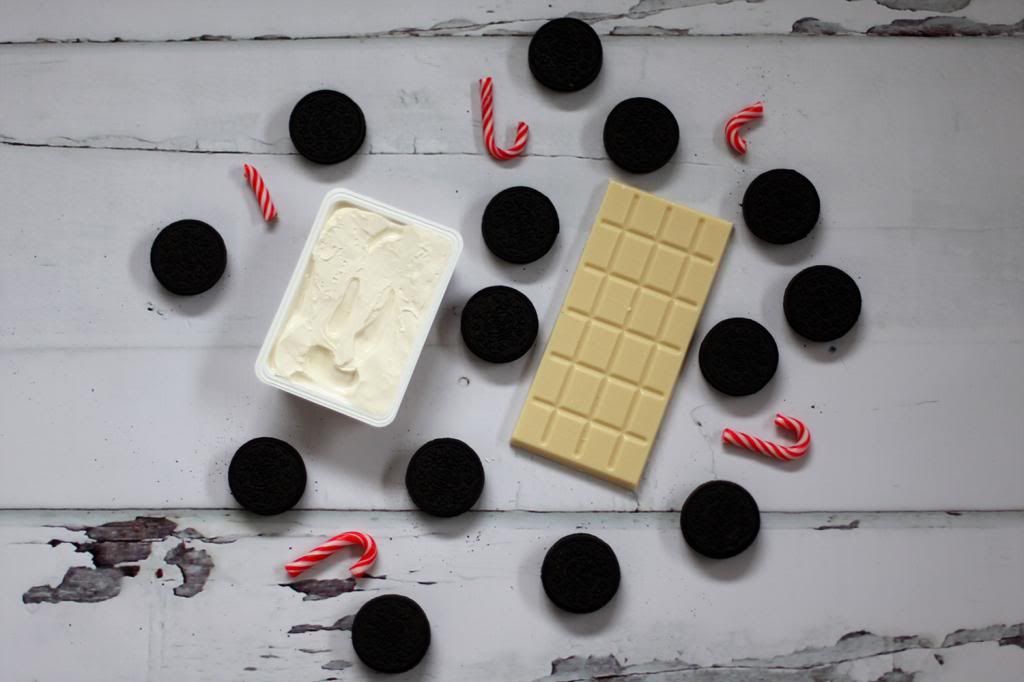 1 packet oreo biscuits
80g cream cheese
200g white chocolate
2 candy canes, or 4 or 5 peppermint sweets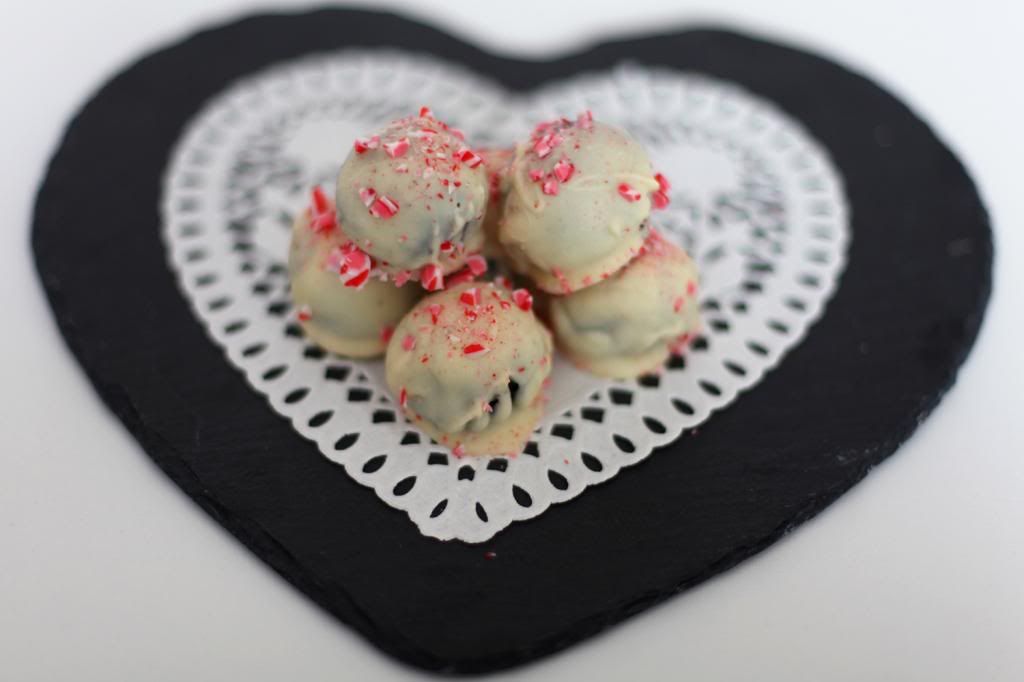 Method:
Line a baking tray or dinner plate with baking paper, and bring cream cheese to room temperature

Put oreos into food processor, and process until the biscuits resemble bread crumbs

Add cream cheese and process again until combined, the mixture should be starting to stick together

Roll into balls, and put on your lined tray/plate

Put into the fridge to firm up. I left mine for about an hour or so.

Put your candy canes/peppermint sweets into a sandwich bag and bash them with a rolling pin or similar until they break up into little bits

Melt white chocolate in a bowl over a pan of barely simmering water, taking care not to let the bottom of the bowl touch the water

Dip your rolled oreo pops into the melted chocolate one at a time, and set back on the baking paper lined tray

Once you've dipped them all, sprinkle peppermint pieces over the top and leave to cool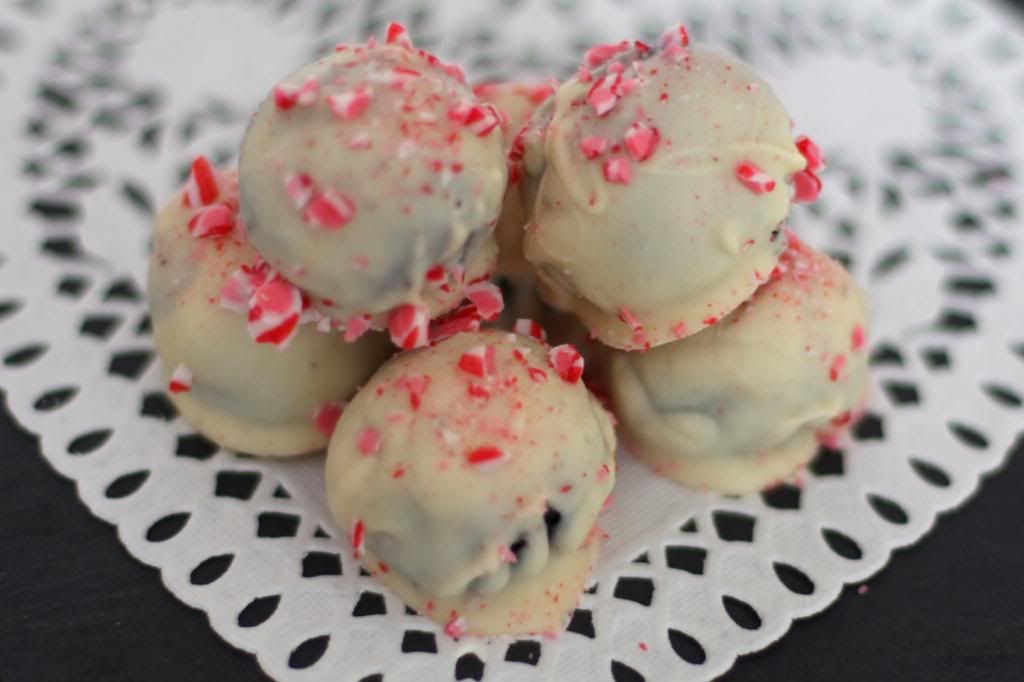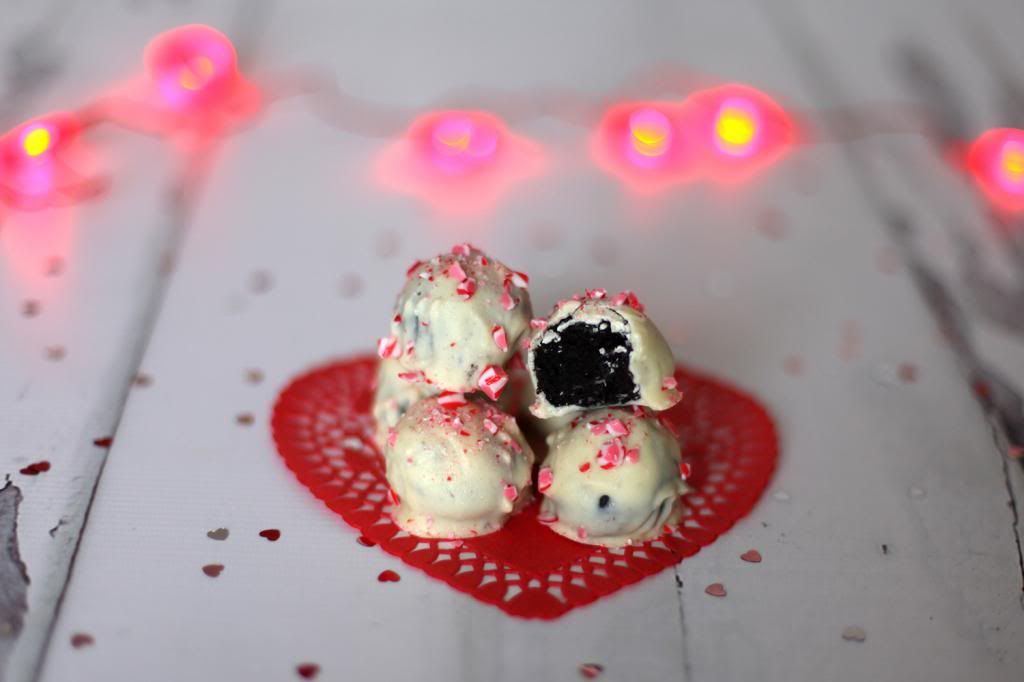 Once they've set, package them up in a pretty jar and give to someone you love!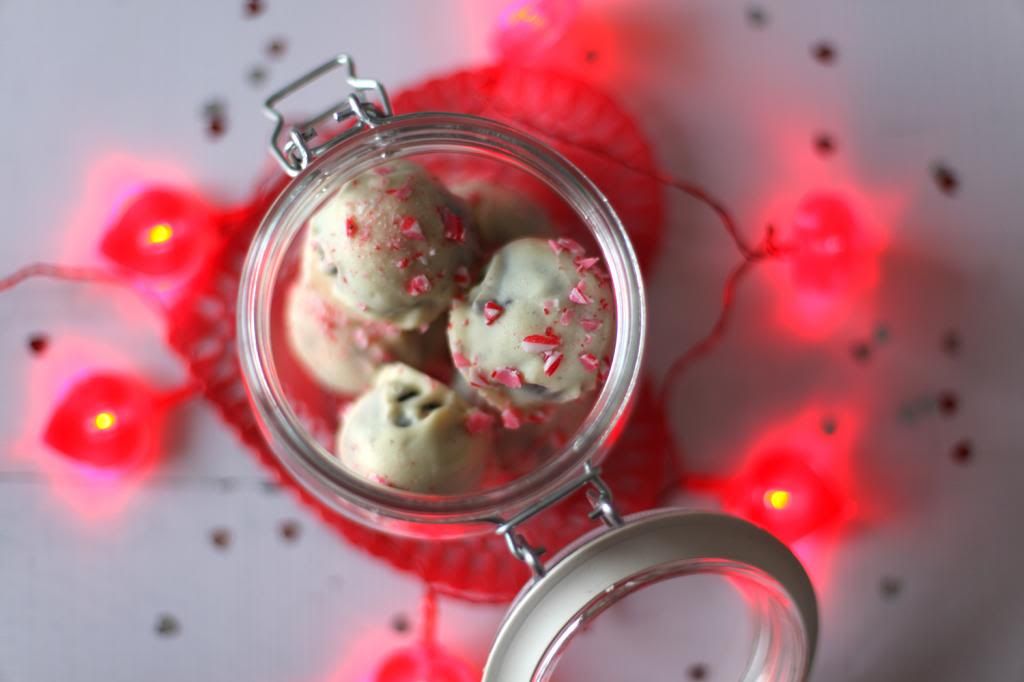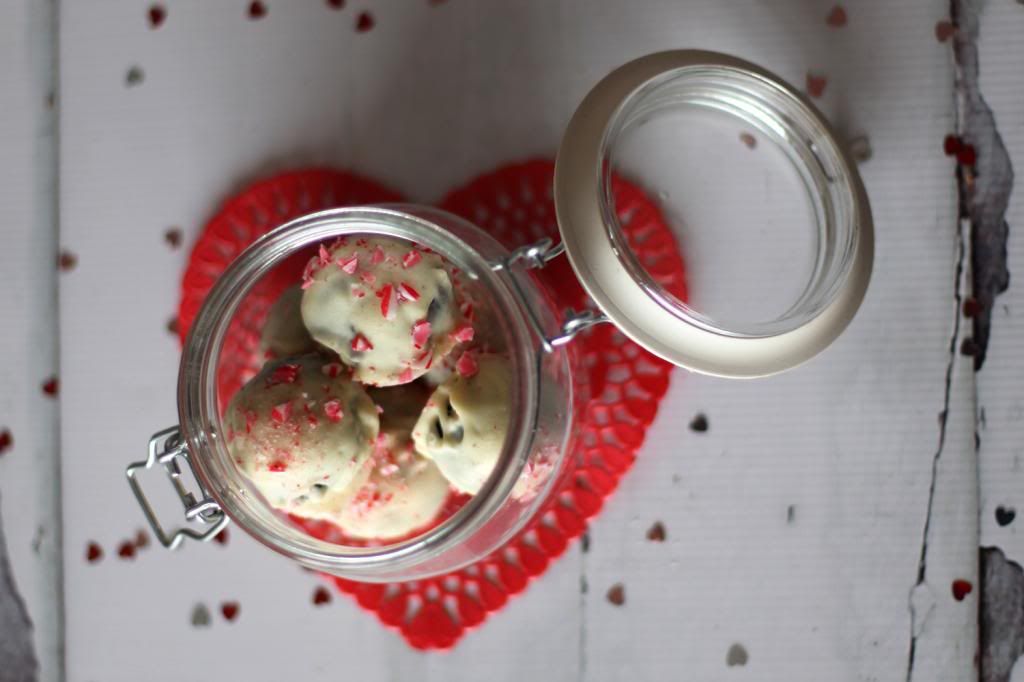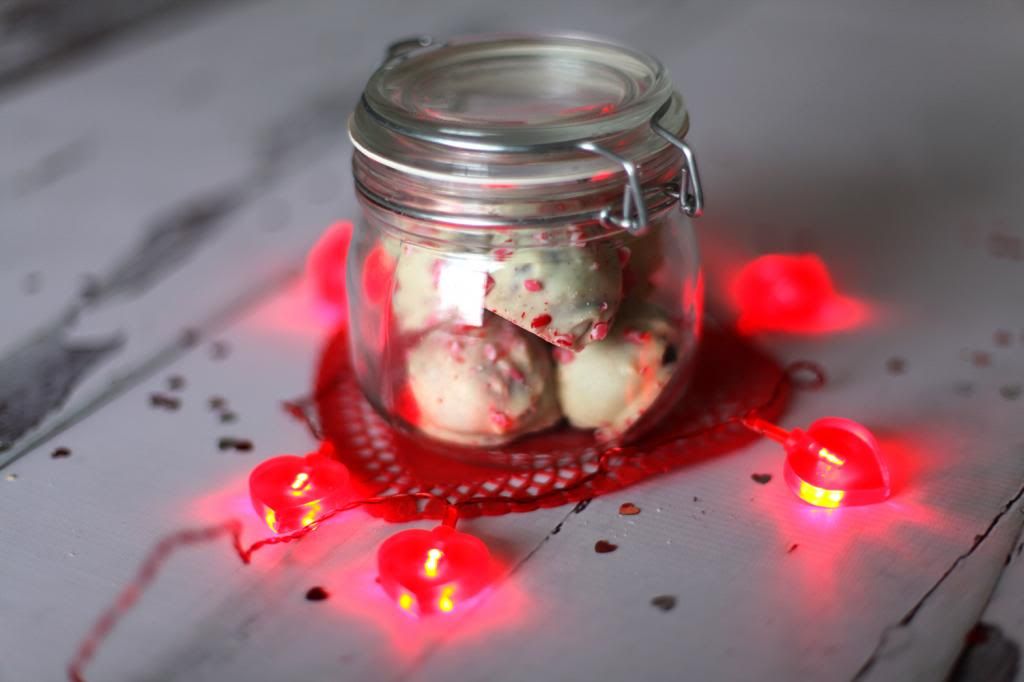 And there you have it! Super easy, like I promised. I wondered if the oreo truffles would be pepperminty enough with just the bits on top, and wondered if I should have added some essence to the oreo/cream cheese mixture, but it turned out to be just the right amount of peppermint.

Let me know if you try these! And also, do you have anything special planned for Valentines Day?