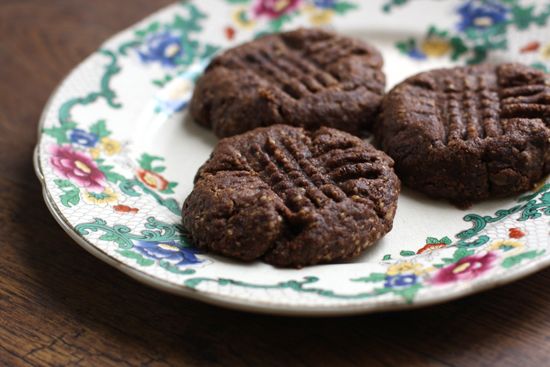 You might remember a recipe on the blog for
easy cookies
a couple of months back. I've been making these cookies since, they take about 15 minutes from start to finish and are just really delicious.
I made a chocolate version of this recipe a little while ago, and due to the fact that I didn't realise that I didn't have any eggs on hand until after I'd started, and I'd already used a sunflower spread in the cookies, these ended up being a vegan recipe and to be honest, they're even better than the original!
Ingredients:
2 tbsp vegan spread/butter
1 tbsp peanut butter
2 tbsp brown sugar
1 tbsp granulated sugar
3 tbsp self raising flour
3 tbsp medium oatmeal
1 tbsp cocoa powder
Method:
Preheat oven to 180 degrees and grease or line a cookie baking tray.

Melt vegan spread or butter.

Combine all dry ingredients. Note: If you don't have medium oatmeal, you can either pulse some regular oats in a blender, or just use them as is.

Shape the cookies into balls (I got three out of mine) and then press down with a fork.

Bake for about 8-10 minutes, keep an eye on them as they tend to turn quite quickly