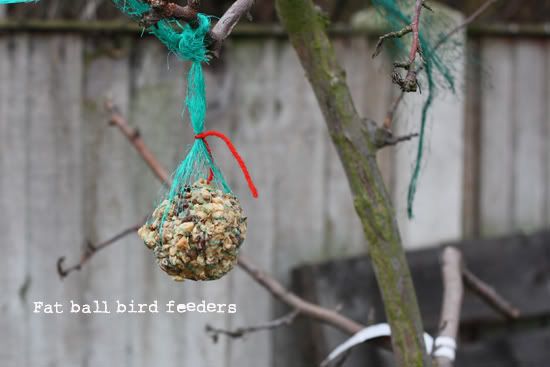 Now that October is here, the cold weather is starting to draw in, the garden is winding down (although I still have some kale and other bits to continue to feed myself with!), and we start spending more time indoors again. One thing I love to do in the winter is to make fat ball feeders for the bird, and hang them around my garden. I'm sure the birds love them too! This is a great little project to do with little ones as well, as if you have the patience you don't even need to melt the fat, you can just soften it by beating it with a wooden spoon and stirring the ingrdients in. They're absolutely so easy to make

You will need:
Block of lard or solid vegetable oil

Whatever else you have on hand! Raisins, coconut, nuts, seeds, oats, biscuit or cracker crumbs, bacon rind

Netting/mesh

Wool or string

Method:


Gather your ingredients for the fat ball, if using biscuit or cracker crumbs either bash them by hand or add them to a food processor and process until crumbs

Melt the lard/vegetable oil until it is a liquid (or soften it by beating with a wooden spoon), leave to cool slightly

Add the other ingredients. I usually make these when I have some stale crackers or baking, or old cheap biscuits that aren't being eaten. I add this first and stir together, then add in the other ingredients a bit at a time. You don't want the mixture to be too dry - it needs to stick together to form the balls.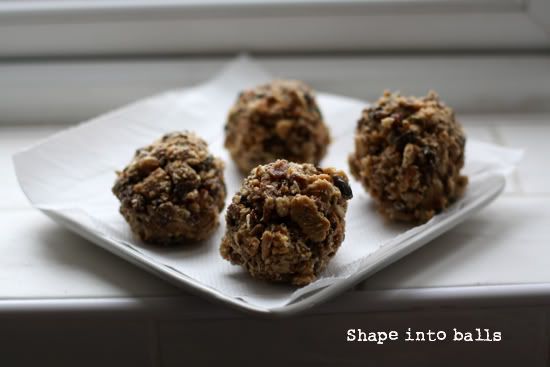 If you melted the oil, let it cool until almost set. If not, you can start straight away. Using your hands (or if you don't want to get them dirty an ice cream scoop works well) form balls with the mixture about the size of golf balls. Transfer to a piece of kitchen roll or baking paper and let cool until completely set.

Cut squares out of the netting/mesh and wrap a ball in the centre of each one. I used pea and bean mesh that I bought in the summer to grow my plants up. If you don't have any, using a needle you can thread wool or string through the centre of the balls whilst still soft and hang them up this way.

Hang them around the garden, then watch the birds come!